Inclement weather tried its hardest to put off about 45 dedicated volunteers from the Cass Bay planting day recently, but to no avail.
The hardy souls – made up of Whaka Ora Healthy Harbour staff, Wai Ora staff, volunteers from the community, Cass Bay Residents Association and Cass Bay Reserves Management Committee members, and our staff – met on the morning of Saturday 14 August.
Te Hapū o Ngāti Wheke representatives opened proceedings with a karakia before the volunteers got the planting underway.
Hundreds of seedlings planted
The weather packed in at about midday though. A strong southerly and rain howled in to cut the planting day a couple of hours short.
Nevertheless, about 400 seedlings were planted and the barbecue was staffed by Sea Cadets volunteers in the shelter of the Cadets Hall.
The rest of the natives were planted by Wai Ora staff and local volunteers when the weather had calmed enough to return to the site.
Building on the success of the first planting day
This was the Bay community's second planting day in two years in the Steadfast catchment. This year's planting added to the effort to help reduce sedimentation in Lyttelton Harbour.
Our Banks Peninsula biodiversity advisor Martin Rutledge said the day was a success, despite the conditions.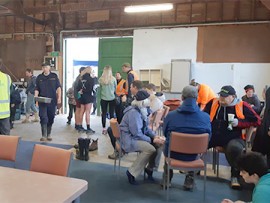 "I was thrilled to see so many community members turn their hand to planting. We were thrilled with last year's turnout of 30, so to have about 45 this time around was even more impressive," he said.
Whaka Ora Healthy Harbour programme manager Karen Banwell said this year's planting helped work towards achieving the project's goals of reducing sedimentation and enhancing biodiversity in Whakaraupō.
This project also works towards ticking off the project's goals of improving hills and lowland areas around the Harbour.